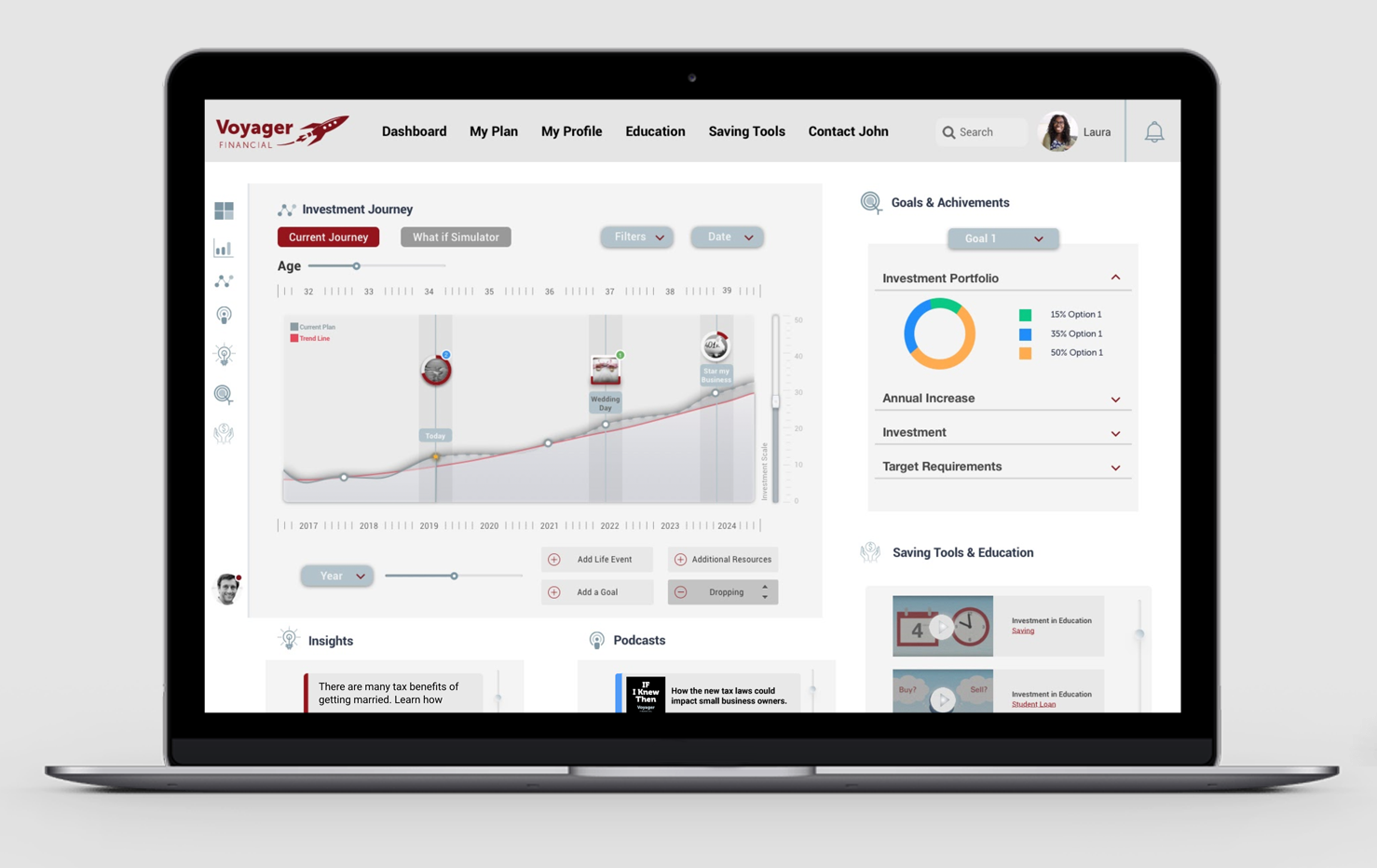 ROLE
Researcher, Strategist Designer
PROJECT LENGTH
4

Months (01 - 04.2020)
OUTPUTS
High Fidelity Prototypes
User Personas
CO-COLLABORATORS
Sana Behnam
Luiza Correa
Michael Fletcher
Rhys Gruebel
Marie-Josee Huard
Jack McDermott-Sweeney
Amy Spencer 
Yuanqing Zoey Zhao
How Might We...
elevate online enrollment to increase participation in Voyager Financial's service offerings?
Our client, one of the largest providers of investment accounts and mutual funds in the world, provided a brief outlining their goal of increasing online enrollment in their retirement account and to encourage use of the client's online resources. Our in first step was to determine the key areas within the client's industry, and in relation to their users, which served as starting points for research and exploration towards opportunities for ideation.


In initial analysis of the our client's industry, the current experience and customer touch points, our team identified the key areas to start gaining notable insights and iterate on:
-Privacy, Security and Trust
-Strategic Relationships with Employers
-Increasing Levels of Engagement
-Empowerment and Education of the User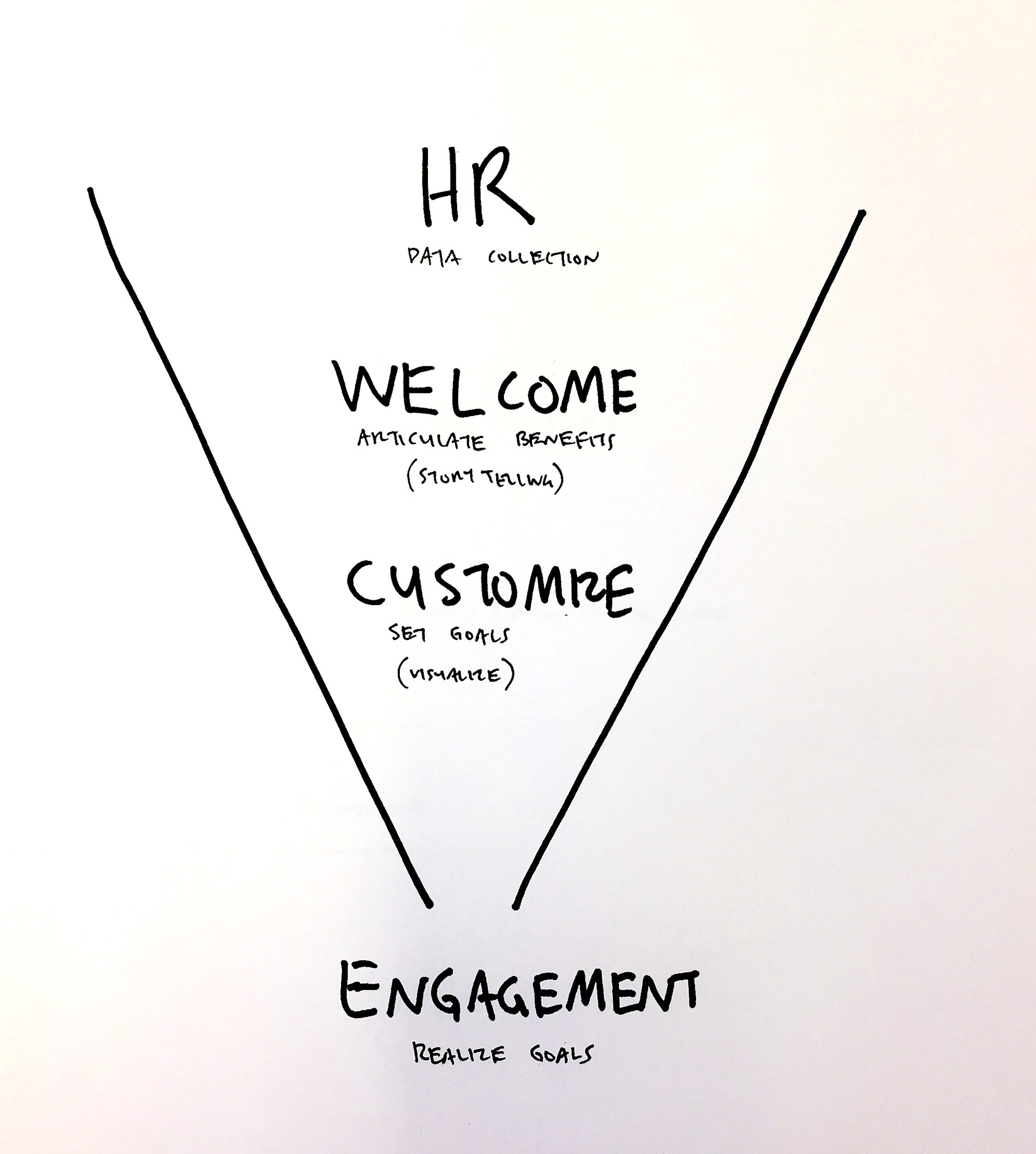 Our design methodology was primarily research-driven. This process included online surveys, interviews, competitor analysis and registration best practices related to people's attitudes and behaviors regarding money. We fostered this approach in order to be a better advocate for the participant/user. Knowing their behavior allowed us to develop empathy and make decisions based on our understanding of the user rather than our assumptions about their attitudes towards investing.
PERSONAS

From the data collected from users about their behaviors and attitudes about finance, we determined two personas to iterate for.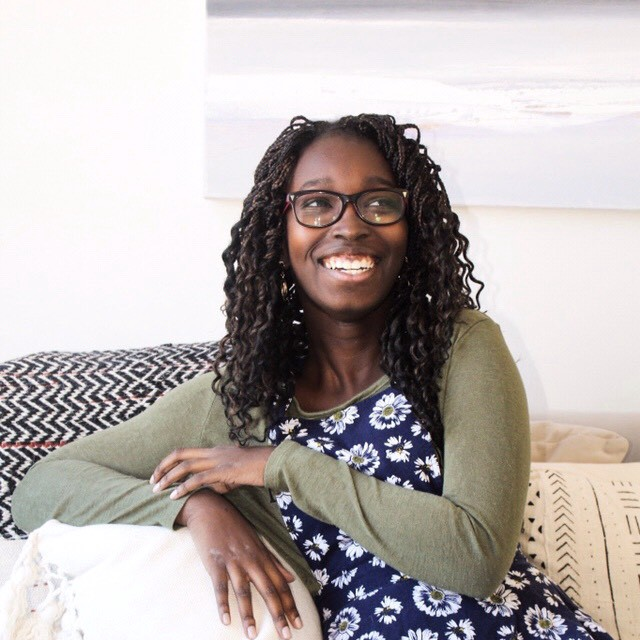 Goals
Laura wants to launch a tech startup in the short-term and wants access to a higher standard of living in retirement in the long run.
Pain Points
Laura is a current Voyager customer and while her investments see decent returns, she lacks liquidity, such as an emergency fund. Due to a personal experience in data breaches, Laura is also skeptical about sharing her private information.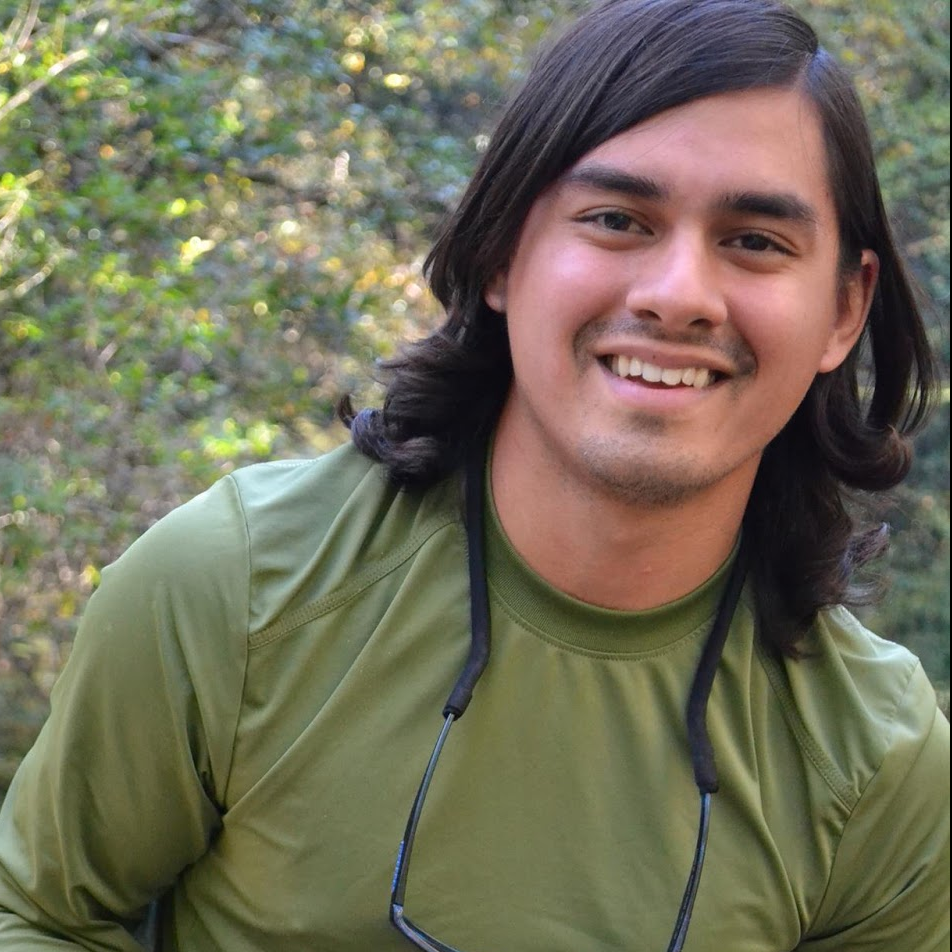 Roberto, 23, Grad Student in Biology
Goals
Robert is new to investing and would like to be more savvy and develop good financial habits. He wants to be a position where he can travel leisurely, donate toward environmental causes, and begin saving for retirement.
Pain Points
Working only 10 hours a week as graduate associate, Robert's income is limited and lives on a tight budget.
In determining the needs of our users (personas), we decided to conceptualize an all-in-one portal system that incorporates personalization and more visualization of the users' investment journeys alongside their life events and personal savings goals.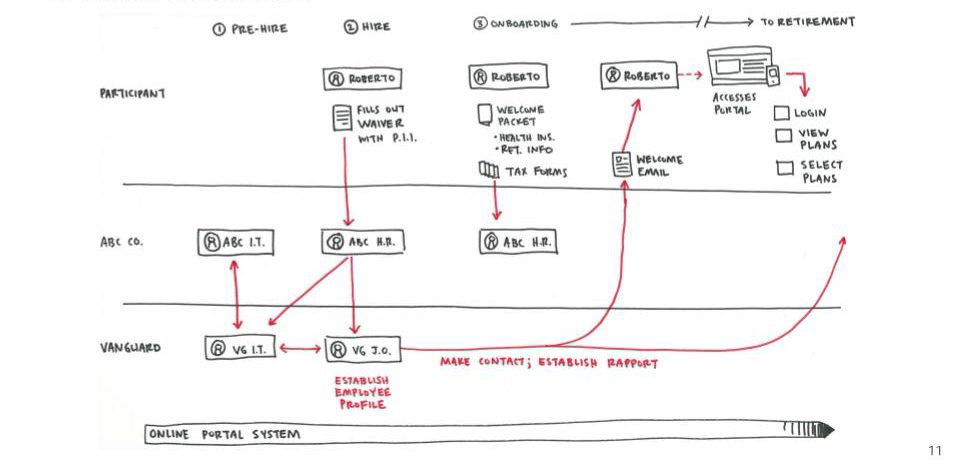 PROTOTYPES

In essence, our primary concept is explicitly designed to support the customer in writing their own narrative. The purpose of which is to create a framework that r
einforces the need for long-term retirement planning while simultaneously acknowledging, and allowing for, real-life goals and aspirations and the need for financial flexibility.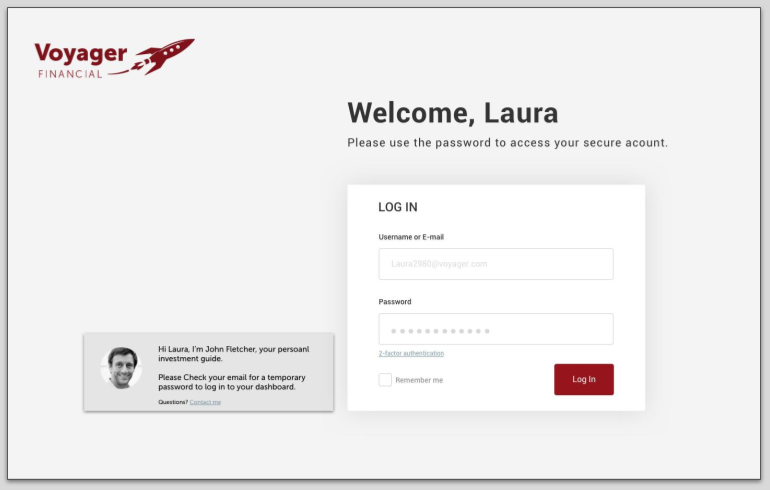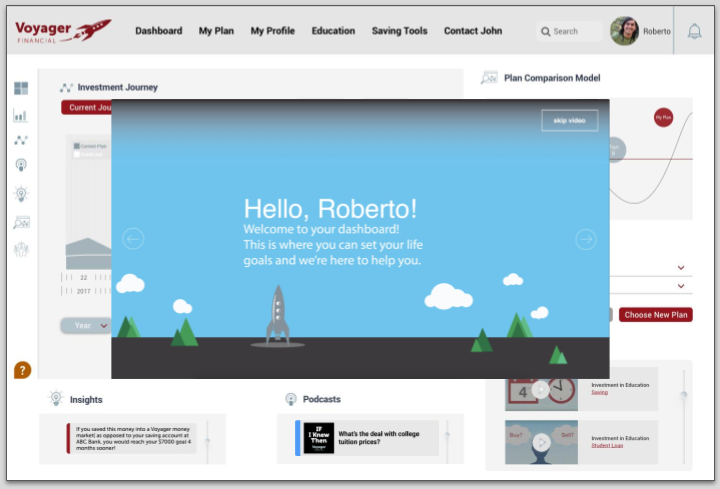 Login page (left), user dashboard with introductory video with option to skip (right and below)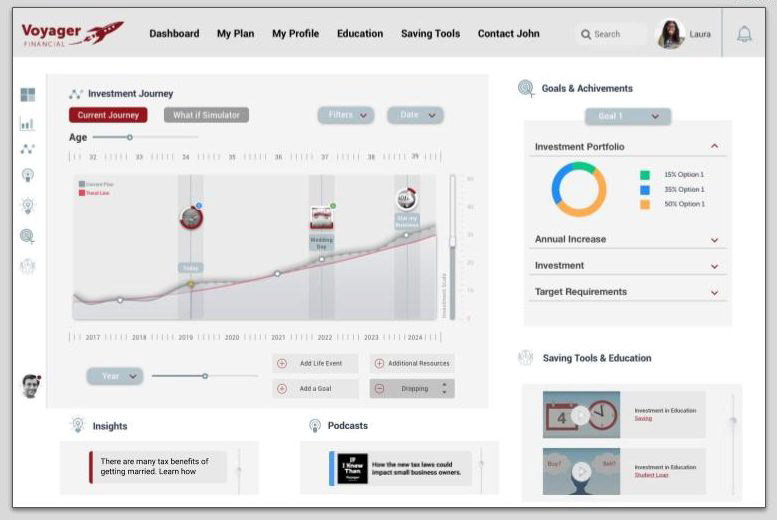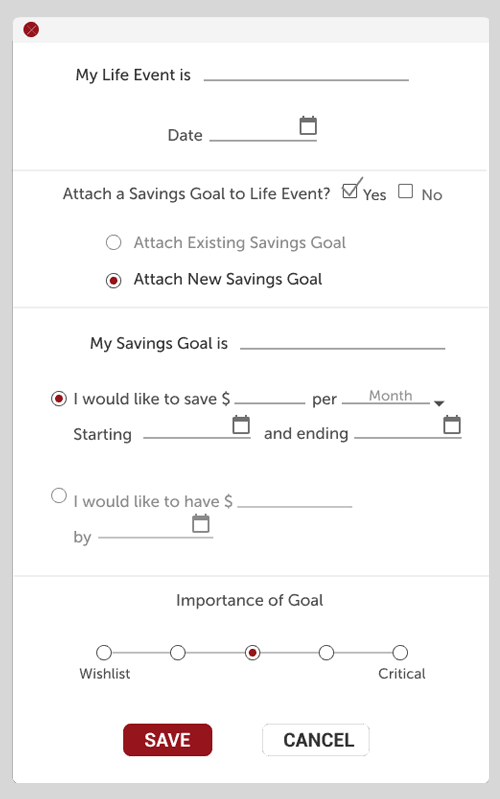 Users have a holistic view of their investment journey and can add additional savings goals and life events, which can also be attached to each other.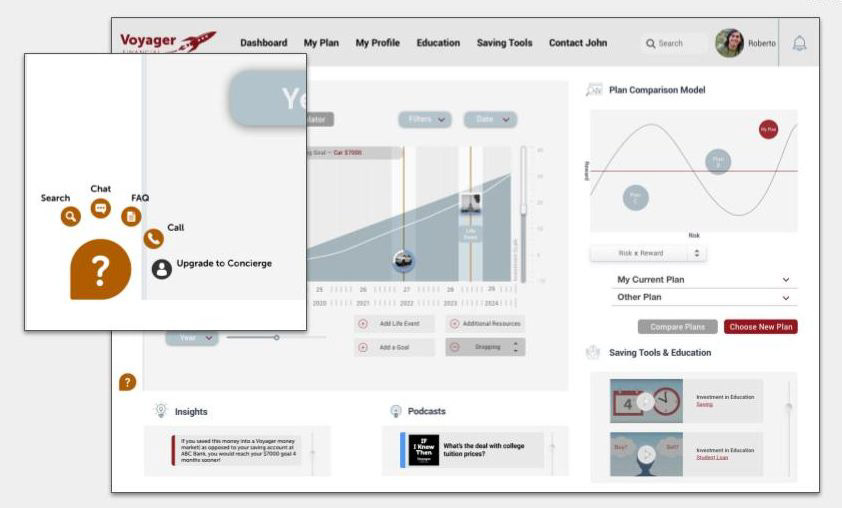 The dashboard also has a button for users when they need further support. They can upgrade to 'Concierge', a paid service to consult with an assigned financial advisor.